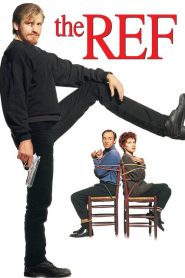 The Ref
They might be his hostages but what they're doing to this guy is criminal.
Mar. 09, 1994
USA
97 Min.
R
Hello This Is A Test
Synopsis
Caroline and Lloyd are a married couple constantly at each other's throats, masters at crafting acid-tongued barbs at the other's expense. Indeed, they are so obsessed with belittling each other that they never stop — not even at gunpoint. The gunman is Gus, a thief on the run from the police, who kidnaps the couple as an insurance policy, planning to use their home as a hideout. But their incessant bickering proves more than Gus bargained for, forcing him — for the sake of his own sanity — into the unenviable role of peacemaker. To make things even worse for Gus, he discovers that he has taken the couple hostage the night of their big Christmas party, and the guests are already on the way. Not wanting to leave Lloyd and Caroline unattended, Gus opts to attend the party, pretending to be the couple's marriage counselor. This naturally leads to a series of comic confusions, as the hostage crisis and marital tensions head towards their inevitable conclusion.
IMDb Rating 6.9 22,772 votes
TMDb Rating 6.7 182 votes